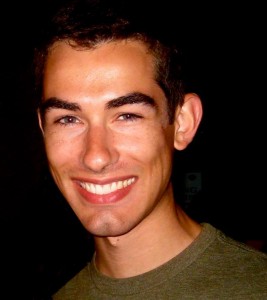 We'd like to end our week by introducing you all to the amazing Jim Blackett who not only plays Larry in [title of show] at the Hollywood Fringe Festival but is also the brilliant musical director for this production!
What has been your favorite moment as musical director in this show?Our first preview performance. Even though it wasn't officially opening night, it was the first time we had a large audience in attendance. It's an incredible feeling to share something you've worked so hard on, to have the audience react to things you've grown used to. This is always my favorite part of the process — when all those rehearsals turn into a final product and you get that nervous and excited feeling. It's like what Jeff says in the finale: "Let's just put the show out there and see what happens."
What was your favorite song to work on and why?
If I had to pick only one…probably "Monkeys and Playbills." This song is filled with intricate rhythms, interesting and beautiful harmonies, and is so fun to play. It's one of those songs packed with so many details that there's always something more to work on. When the cast nails it, I get CHILLS. Though I must say, some other favorites include "Secondary Characters" and "Part of It All."
Which song are you the most proud of? Or that's come a long way in rehearsals?
The festival sequence! ("September Song" and "Development Medley" in particular.) These may be the most musically challenging numbers in the show, and the cast has done an amazing job with them. Parts of these numbers were initially intimidating because, like "Monkeys and Playbills," they are so intricate, filled with changes in tempo, key signature, and style, but I'm very happy with the shape they're in now.
Why did you want to be in title of show?
I wanted to be involved because I LOVE the show and its music, which is this interesting mix of pop, folk, and more traditional musical theatre styles. Also, everything about this project sounded like a great opportunity.